Carnevale was a Limited edition commemorative stamp in SLOWLY. This could be unlocked when you visit Italy during this special day.
This stamp was released in February 2020, and soon after withdrawn - due to the Covid pandemic. Details on this Blog post.
Information
'The Carnival of Venice (Italian: Carnevale di Venezia) is an annual festival held in Venice, Italy. The carnival ends on Shrove Tuesday (Martedì Grasso or Mardi Gras), which is the day before the start of Lent on Ash Wednesday. The festival is world-famous for its elaborate masks. Venetian masks can be made of leather, porcelain or using the original glass technique. The original masks were rather simple in design, decoration, and often had a symbolic and practical function. Nowadays, most Italian masks are made with the application of gesso and gold leaf and are hand-painted using natural feathers and gems to decorate. The Medico della peste, with its long beak, is one of the most bizarre and recognizable of the Venetian masks, though it did not start out as carnival mask at all but as a method of preventing the spread of disease. The striking design originates from 17th-century French physician Charles de Lorme who adopted the mask together with other sanitary precautions while treating plague victims. The mask is often white, consisting of a hollow beak and round eyeholes covered with crystal discs, creating a bespectacled effect. Its use as a carnival mask is entirely a modern convention, and today these masks are often much more decorative. Although the mask and costume is worn almost exclusively by males, the enhancement in decoration also suggests that women are now more likely to wear the mask and costume than in previous years at the Carnival.
The plague doctors who followed De Lorme's example wore the usual black hat and long black cloak as well as the mask, white gloves and a staff (so as to be able to move patients without having to come into physical contact with them). They hoped these precautions would prevent them contracting the disease. The mask was originally beaked with a purpose in congruence with the miasmatic theory of disease practiced at that time: the hollow beak allowed for the containment of flowers and other sweet-smelling substances designed to keep away the foul odors that were thought to spread infection. Those who wear the plague doctor mask often also wear the associated clothing of the plague doctor. The popularity of the Medico della peste among carnival celebrants can be seen as a memento mori.
.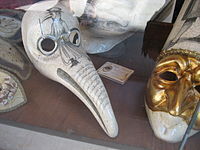 Text and image from Wikipedia.
Method
This stamp was unlocked by logging into your account while inside the country during this special day. Any other local stamps will also be unlocked at the same time.
Now it has been withdrawn and is no longer available - due to the Covid pandemic. Details on this Blog post.